About
Real estate Website
With global digitization, there has been a huge demand for web applications. 87% of real estate firms have websites. Since buying and selling properties are important decisions, users like to search for and analyze properties thoroughly. Websites make It easier for users to choose the right kind of property. A website ensures that the customer gets a good impression and adds credibility to the business.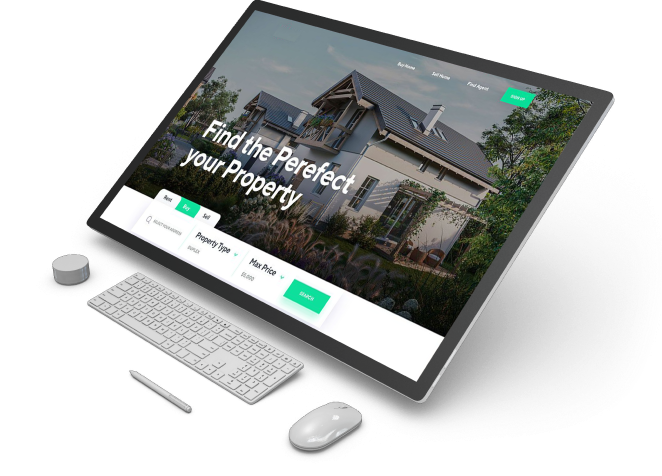 Feature of Real estate Website
A real estate platform is a meeting place for buyers, sellers, and agents. It's a challenge to make a web app according to their needs. The key to success is to pay attention to the user experience.
1
User Registration
Users can register using their email address or one of their social media accounts. The user can choose a role depending on whether they want to buy or sell properties. There can be a separate registration for agents.
2
Search
A search tool connected to a rich database of properties helps users find the right property for them. The users can also filter search results based on location, type of property, budget, etc.
3
Photo Gallery
Photos are a vital part of the real estate website. Research shows that a property gets sold 2X faster when the photos of the same are displayed. The users can upload HD images, videos and view 360° images of the properties.
4
Calendar
This feature allows users to check available dates for viewing the property
5
Chat
The website has a chat feature where users can message each other and negotiate or book appointments for viewing properties.
6
Maps
Maps APIs can be integrated with the website to make it easy for the users to find the right kind of property, analyze the locality for hospitals, restaurants, etc.
7
Payment
An integrated Payment system lets buyers book properties in high demand by making a downpayment.
Benefits of Real estate Website
Having a website adds a lot of advantages to your business. It gives you an edge over your competitors. Users can find the right property with much ease.
A greater market potential will enable successful conversion of leads. With the Real estate website, you can leverage this advantage and grow your business exponentially.
Branding is a very important factor in building a successful business. A dedicated website helps you in having a unique brand identity. The website will help the users in relating to your brand.
Varied listings of properties
The biggest disadvantage in property listings is that most of them are similar in their features. A website listing gives customers a wider range of choices.
Using the website, users can first view the properties before choosing to go physically, thus saving a lot of time.
The customer feedback system makes it easier to file grievances and easier to address them, which will lead to greater customer satisfaction.
Why Choose Krify for Website Development?

We have professional software developers who have already built various applications with over 500 above mobile and web applications.

To discuss your queries and project criteria, we assist our clients with a free consultation. Our team will help them in answering all project-related queries.
We have personalized recruiting models, enabling clients to employ an hourly and fixed price for developers to fulfill different work requirements.

We have a technical maintenance support team that responds to your feedback and provides a feasible solution and a seamless experience.

We believe in total accountability with our customers, so we keep them updated about project progress across the whole development cycle.
You can explore our works on different business verticals. We have delivered the best of our services to our clients, based on the proposals shared by them.
Join hands with the Robust app development company
Talk to us about your idea of digital transformation or the development of apps so that we can turn it into reality.
Contact Us

Krify Inovations (UK) ltd

(US): 212-380-1160

(UK): 020 -3006 – 2580

(IND): 080 – 48131031

[email protected]

+91 95050 46265

krishnareddy_k