About
Real estate Mobile application
Traditionally Real estate has involved the painstaking effort of wandering to search for a property. With the mobile revolution real estate customers and sellers now prefer smart, accessible and quicker solutions customized to their needs at the comfort of their homes. 53% of the customers today use mobile apps to search , analyze and buy properties.The trend only keeps increasing.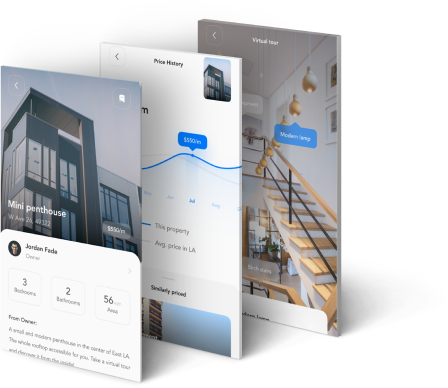 Features of Real estate mobile application
Building technologies that strongly influence the healthcare sector more competitive, efficient and affordable in the future. Krify pioneered the development of intelligent medical solutions. With high-end expertise in different fields, our internal experts create creative, effective, efficient and accessible service for the future of the health sector and comprehensive solutions for your company. Innovative solutions for your business are provided.
1
Customer panels
The app has exclusive panels for different types of customers(Sellers, Buyers & Agents). This will help in enabling the user to access relevant features better.
2
Search
A search tool that is linked to a rich database of properties that helps users find the right kind of property based on basic parameters like location, type of property, budget etc.
3
Map
This interactive map feature allows users to visualize all the relevant information and thereby help them make an informed decision.
4
Gallery
This is one of the most important features of the Mobile application. The Sellers and Agents can upload high quality photographs, 360 view of the property, videos etc for the buyers to view.
5
Message & Chat
The Mobile application also has a chat box that helps the two parties in chatting and negotiating. This also further allows users to share more details about the property.
6
Booking
A booking feature that allows users to book a property in high demand by making a downpayment.
Benefits of Real estate mobile application
Gone are the days when people would physically visit a place to check Real estate. In the highly digitized world , make your customers download the Real Estate Mobile App to find the right property for them while saving their time.
The biggest advantage of using tech is that there are no physical boundaries that dictate markets. With the Real estate mobile application you can leverage this advantage and grow your business exponentially.
The mobile application lets you engage with your target customers with greater ease and thereby increasing the chance for a conversion and retention.
Amazing property viewing experience
With features like 360° view, HD images, videos, the application enables potential buyers to have a better understanding of the property which will lead to higher conversion rate.
Using the Real estate mobile application, you can create a unique, strong brand identity that separates you from the competition.
The Mobile application makes it much easier for you to address user grievances in a short span of time.
Why Choose Krify for Mobile App Development?

We have professional software developers who have already built

To discuss your queries and project criteria, we assist our clients with a free consultation. Our team will help them in answering all project-related queries
We have personalized recruiting models, enabling clients to employ an hourly and fixed price for developers to fulfil different work requirements.

We have a technical maintenance support team that responds to your feedback and provides you with a feasible solution and a seamless experience.

We believe in total accountability with our customers, so we keep them updated related to project progress accross the whole development cycle.
You can explore our works on different business verticals. We have delivered the best of our services to our clients, based on the proposals shared by them.
Join hands with the Robust app development company
Talk to us about your idea of digital transformation or the development of apps so that we can turn it into reality.
Contact Us

Krify Inovations (UK) ltd

(US): 212-380-1160

(UK): 020 -3006 – 2580

(IND): 080 – 48131031

[email protected]

+91 95050 46265

krishnareddy_k