Media & Entertainment Mobile App Development Company
The media and entertainment sector also benefits from modern technologies, providing its client's exemplary offerings with the assistance of the mobility solution of media and entertainment. Many businesses look into this production of entertainment technologies because it draws a large audience.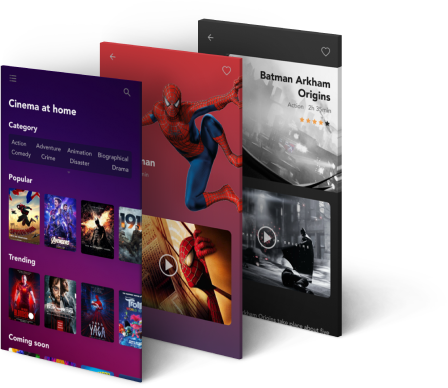 Features of Media and Entertainment mobile Application
You need a comprehensive understanding of the industry and a highly specialized experience to provide creative high-end mobile applications for media and entertainment to satisfy your end-users entertaining requirements.
1
Easy Login
An Easy Login for the app allows the users to explore and use the app at their convenience.
2
Music
The entertainment industry attracts steady followers and creates massive profits by the emergence of internet radio and music listening stations.
3
Movies
By taking on versatility, filmmakers excel in developing an immense atmosphere around their new releases. And this exceptionally successful promotion contributes to the movie's box office collections.
4
Brand promotion
With endless smartphone consumers investing half a day with their smartphones, advertising, and marketing firms will tap this exploding customer base as much as possible.
5
Mobile gaming
Intensely engaging mobile apps' realistic game environments contributed to major media industry innovations.
Benefits of Media and Entertainment mobile Application
having mobile apps provides a presence and a great advantage for users.
Benefit using push notifications
The mobile apps enable users to learn more about their favorite series, images, and insight into celebrities by providing users with a customized interface through push notifications.
Reduces use of pirated content
The entertainment industry applications came at the right time to help alleviate and solve this issue by providing a very fair price for the same content with HD consistency.
Promoting more user engagement
The entertainment apps will still keep users occupied, even at unusual hours, and during their free time, people consume over 50 percent of data.
Power of social media for user engagement
You need to use the extremely entertaining and flawless content you implement; the users can read and appreciate and share it instantly.
Why choose Krify for Mobile app development?

We have professional software developers who have already built various applications with over 500 above mobile and web applications.

To discuss your queries and project criteria, we assist our clients with a free consultation. Our team will help them in answering all project-related queries.
We have personalized recruiting models, enabling clients to employ an hourly and fixed price for developers to fulfill different work requirements.

We have a technical maintenance support team that responds to your feedback and provides a feasible solution and a seamless experience.

We believe in total accountability with our customers, so we keep them updated about project progress across the whole development cycle.
You can explore our works on different business verticals. We have delivered the best of our services to our clients, based on the proposals shared by them.
Join hands with the Robust app development company
Talk to us about your idea of digital transformation or the development of apps so that we can turn it into reality.
Contact Us

Krify Inovations (UK) ltd

(US): 212-380-1160

(UK): 020 -3006 – 2580

(IND): 080 – 48131031

[email protected]

+91 95050 46265

krishnareddy_k