Healthcare App Development Company
Today, almost 90% more people use communication apps through mobile devices. Mobile technology lets physicians keep an eye on patients' health records promptly. When we look at the large-scale effect of technology on our lives, its reach into the medical and medical sectors is a boon. Since 2012, the trend in the healthcare industry has increased constantly with the mobile app.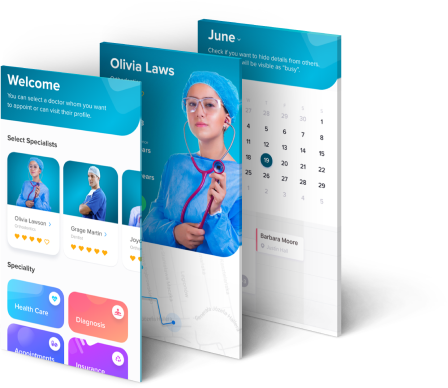 Features of Healthcare mobile application
reality, the mobile app is the best solution for hospitals based on technology. When you're creating a mobile healthcare app, you need to focus on the functionality you're going to have in them. Let us understand the features of healthcare mobile apps.
1
Record Accessibility
The past of the patient is of great importance for the doctors. Sometimes, history plays a key role in the care of a patient. The procedure is in some cases extended and the treatment continues to improve. This is why documents must be kept perfectly so that they are on the same page as the one that previously served you when a new provider takes over.
2
Operations & Workflow
There is a large amount of information and other assets that have to be handled on a regular basis (e.g. medication, injections, instruments, stretchers, etc.) along with paperwork, files for patients, etc. The hospital must handle these assets as efficiently as possible, and maintain a list of the inventory in order to simplify the procedure and to execute the operations at its own pace.
3
Assigning Duties Made Easy
A significant number of doctors, surgeons and nurses are normally involved in inpatient care. Different treatment centres and patients are allocated. The roles are shared and handled in an emergency so as to deal with the critical situation. In a manual scenario, it becomes impossible to obtain details about the doctors in real-time and what they actually have.
4
Operations & Workflow
There is a large amount of data and other assets to be handled each day including inventories of medications, injections, equipment, stretchers and so on, as well as records, patient files and so on. The hospital must handle these assets as efficiently as possible, and maintain a list of the inventory in order to simplify the procedure and to execute the operations at its own pace.
5
Hospital Locator
A GPS locator should be available to help the patient find his way into the hospital for a hospital app. In the event of an emergency, the driver would not need to go to the hospital to ask people. A strong GPS in the app will help you find and get around the hospital.
Benefits of Healthcare mobile application
Ideally, when you have an idea, you can create a model that will help you focus on creating mobile applications. Let us check the benefits of Healthcare mobile apps:
Healthcare mobile applications installed on everyone's phone give rise to a number of cybersecurity issues.First and foremost, there will be secure transmission and processing of vast patient data, including personal data and medical information as well as financial data.
Multiple integrations are required for mobile healthcare apps. It will also help minimize costs, amplify opportunities, mitigate risks, promote design and engineering and, ultimately, ensure user interaction. It also makes it possible to fill them with creative high-end innovations.
Extended across the globe
The need for healthcare mobile apps leads to emerging markets such as the Asia Pacific. Because of the increasing population and the urgent need to provide accessible solutions to rural and undersupplied areas, Health and telemedicine demand primarily in these regions.
Telemedicine is a revolutionised feature that advances the application's functionality.This role provides a forum for patients and doctors to manage their visits and appointments easily through remote communication.
Why Choose Krify for Healthcare App Development?

We have professional software developers who have already built    various categories of applications with over 500 above mobile and web applications.

To discuss your queries and project criteria, we assist our clients with a free consultation. Our team will help them in answering all project-related queries.
We have personalized recruiting models, enabling clients to employ an hourly and fixed price for developers to fulfil different work requirements.

We have a technical maintenance support team that responds to your feedback and provides you with a feasible solution and a seamless experience.

We believe in total accountability with our customers, so we keep them updated related to project progress accross the whole development cycle.
You can explore our works on different business verticals. We have delivered the best of our services to our clients, based on the proposals shared by them.
Join hands with the Robust app development company
Talk to us about your idea of digital transformation or the development of apps so that we can turn it into reality.
Contact Us

Krify Inovations (UK) ltd

(US): 212-380-1160

(UK): 020 -3006 – 2580

(IND): 080 – 48131031

[email protected]

+91 95050 46265

krishnareddy_k