Food Web Development Company
Ever since the business model's idea on demand for food supply is introduced, separate restaurant franchises or corporations have transformed the conventional way of delivering meals entirely. The digital marketplace helps consumers easily put a meal online and distribute to their houses, workplaces or locations. Almost every person likes buying a meal online rather than going to a restaurant.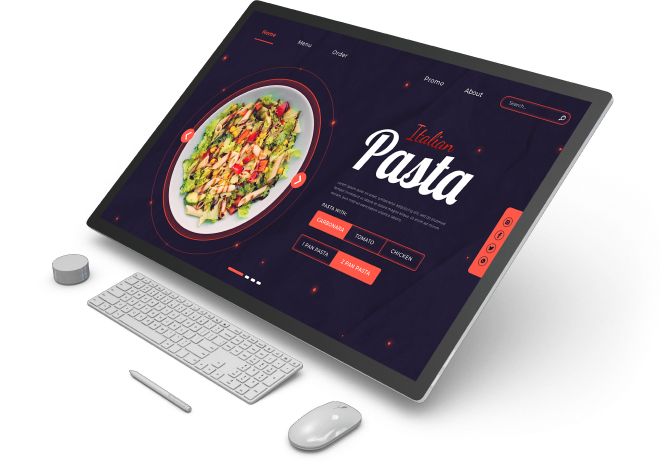 Features of Food Industry Web application
With the rise of the food industry, access to food products has improved with technical advancement. We have also seen an uptick in food and nutritional patterns and forums to educate us about the best way to eat in the world. The application has many features that help to ease the users and provide them with user-friendly services.
1
Select multiple Restaurants
The application provides an exhaustive list of the restaurants in your area, nearby and popular. We deliver tailored offers based on ordering food from numerous restaurants.
2
Profile Management
A crucial function is control of every food distribution application profile. Our developers can deliver an improved user interface in profile management.
3
Seamless order
The food distribution software development services allow users to order or control the product with just a few clicks. The user can quickly monitor and track their order in real-time with an intuitive and user-friendly query interface in the app.
4
Multi-payment gateway
For consumers, choosing several payment options and paying for their food order is convenient online. Therefore, the availability of multiple payment gateways, lets customers pay through their convenient payment gateways.
5
Promotions and Discounts
It's a great opportunity to drive customers to use the food app by announcing promotions and discounts. This way, customers get more attracted to make use of the app to grab the offers.
Benefits of Food Industry Web Application
Users may use a food delivery app to design and arrange meals for their customers, including guests, at various restaurants. You may also book, pre-order, or begin in advance food items.
If loyalty services are combined into smartphone applications, the rise in purchases such as Earl can be seen as averaging 22% of the loyalty programmes
Having your consumers post positive over social network interactions is an excellent way to make your company more visible to the customers and social facts.
With social media integration, it. Gets easier to get users' attention with promotions, which helps to scale the business to the next level.
Why Choose Krify for Website Development

We have professional software developers who have already built

To discuss your queries and project criteria, we assist our clients with a free consultation. Our team will help them in answering all project-related queries
We have personalized recruiting models, enabling clients to employ an hourly and fixed price for developers to fulfil different work requirements.

We have a technical maintenance support team that responds to your feedback and provides you with a feasible solution and a seamless experience.

We believe in total accountability with our customers, so we keep them updated related to project progress accross the whole development cycle.
You can explore our works on different business verticals. We have delivered the best of our services to our clients, based on the proposals shared by them.
Join hands with the Robust app development company
We have collaborated with ambitious business and entrepreneurs all over the world as top software developers in the UK and India. Let's talk about your definition of digital transformation or app creation so that we can transform it into action
Contact Us

Krify Inovations (UK) ltd

(US): 212-380-1160

(UK): 020 -3006 – 2580

(IND): 080 – 48131031

[email protected]

+91 95050 46265

krishnareddy_k