Fitness App Development Company
People nowadays are increasingly mindful of their well-being. Therefore, innovative health applications are introduced into the market to take advantage of it. These applications feature the best food and workout programs at their fingertips to boost consumer fitness levels. This app has become easy to use for health monitoring.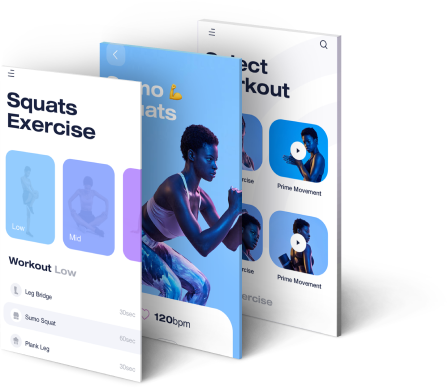 Features of Fitness mobile application
There is a strong demand for fitness app in the current trend. Therefore, optimizing users' health and enriching them with some popular fitness applications is the primary goal. Let us learn the features that make fitness app more demanded.
1
User personalization
The personalization within a health and wellness application is an important aspect. It helps improve user engagement and maximizes user expectations, and helps them fulfill their health targets.
2
Track daily workout
Users who do daily workouts may track daily exercise time and long hours, so this role helps users to both focus on time and count reps.
3
Push Notification
If you ever miss an exercise, pressing notifications on your mobile devices will help you recall your missed workout plans.
4
Timer
If you do some workout, you can use a timer to make adjustments, and you may stop, skip drills, and turn on and off the sound from the training screen.
5
Insights through Graph
A graphical representation of the workouts done daily, weekly, and monthly will help you understand and focus on your future workout plan.
Benefits of Fitness mobile Application
Both your fitness and health improvement can be monitored with only one click. Fitness applications encourage you to fill in all your health information and monitor your daily workout progress..
Motivation is one of the key advantages when using a workout app. Notifications and updates about wellness applications keep you updated and inspired about your fitness objectives.
As you work out, you become more conscious about your diet and plan. In order to be fit and healthy, planning and intake of a nutritional diet play a major role.
Reach your customized goal
Setting up your fitness goals will remind you of it and make you active in reaching your goals.
Why Choose Krify for Website Development

We have professional software developers who have already built

To discuss your queries and project criteria, we assist our clients with a free consultation. Our team will help them in answering all project-related queries
We have personalized recruiting models, enabling clients to employ an hourly and fixed price for developers to fulfil different work requirements.

We have a technical maintenance support team that responds to your feedback and provides you with a feasible solution and a seamless experience.

We believe in total accountability with our customers, so we keep them updated related to project progress accross the whole development cycle.
You can explore our works on different business verticals. We have delivered the best of our services to our clients, based on the proposals shared by them.
Join hands with the Robust app development company
Talk to us about your idea of digital transformation or the development of apps so that we can turn it into reality.
Contact Us

Krify Inovations (UK) ltd

(US): 212-380-1160

(UK): 020 -3006 – 2580

(IND): 080 – 48131031

[email protected]

++917702320540

krishnareddy_k