Real Estate Web Portal Development Features
Consider the most rapidly developing industries on the planet, and real estate is almost certainly going to be one of them. Today, people all around the world use the Internet to acquire information about virtually anything they desire, such as by searching for a website, gateway, store, goods, or services. In exactly the same way, with regard to real estate, a website portal is incredibly useful for both small and large businesses who want to expand their operations by becoming involved in real estate listing. Let's discuss the Real Estate Web Portal Development Features. We have three panels they are:
User Panel

Business Owner Panel

Admin Panel
User Panel

1. Insert Property information:
All of the homes can now be discovered and chosen by agents, brokers, and customers through the internet portal, allowing purchasers to discover them and choose which ones they'd want.
2. Support for the Users:
Assistance is available in the form of property sales, purchases, rentals, and vacation rental properties.

3. Notes on Common Property:
A note is included in the property details when uploading a specific property that is shared by owners, to keep users up to date about it ahead of time.
4. Sending property by Email:
Agents, brokers, and property users who are willing to sell their property may use email to provide details regarding their listings, inquiries, and requirements.
5. Upload Many Pics at a Time:
Users may easily upload all of the pictures associated with their houses by posting them on Zillow.
Business Owner Panel

1. Installs the Property:
A full-fledged real estate portal is established where users may discover all they need to know about the arena and perform property searches according to their demands.
2. Categories can be Changed or Removed:
Business owners have the option to add new properties, modify property details, and remove sold properties; they may also edit the categories.
3. Creating an Agency Profile:
When a real estate firm joins the portal, the portal owner may create and manage their profiles, keeping an eye on all of them.
4. Property Administration:
All the properties on their portal may be managed by the Portal Owner.
5. Options for Billing:
Previously, agents and brokers had a difficult time trying to catch up with consumers for their portion of the money on paper. Things are considerably easier to handle on a web portal, though. Billing choices are available to customers, with the option of paying by credit card being accessible at their leisure.
Admin Panel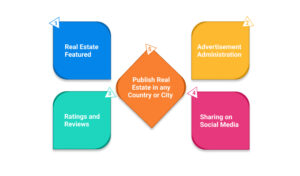 1. Real Estate Featured:
This area allows you to manage all of the feature properties and rooms available on the web portal.
2. Advertisement Administration:
It is simpler to earn extra money by displaying advertisements on the web portal.
3. Ratings and Reviews:
The system will allow administrators to manage the ratings and comments supplied by Web Portal Users.
4. Sharing on Social Media:
It's definitely an effective component since it makes it simple to attract people's attention.
5. Publish Real Estate in any Country or City:
Admin may select public properties in any city or country on the web portal, depending on the company possibilities.
Conclusion:
The above mentioned are the Real Estate Web Portal Development Features Understanding the needs of your users and providing those in the development of any app is a good approach to grow your business. Krify places a lot of emphasis on the quality and originality of the results. Our experienced developers are deeply focused on application creation because they use the most recent trends and adhere to requirements communicated by clients during the development process, according to client requirements. You've come to the correct spot if you're looking for a real estate software developer in India. For additional information, please contact us.