About Travel and tourism Mobile application
Tourism Smartphone applications support tour planners, bookings for hotels, fare reservations, taxi reservations, mapping routes, and many more. The tourism industry uses applications to achieve the next stage of dedication and penetration of the market. Many emerging developments and technological influences will influence the future of mobile tourism applications.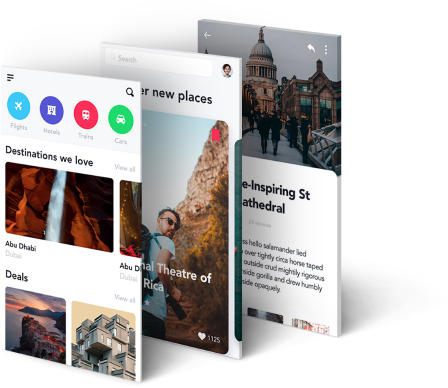 Features of Travel and Tourism mobile application
Every smartphone with android and ios tourism programme is the travel and tourism industry's success, but there is no exception to this. The days of paper maps and guides have been replaced by incredible Android and Ios smartphone devices for tourism. These applications provide multiple features, incentives and features.
1
Geolocation Tracking Services
Tracking systems for geolocations can help travellers map their location and locate viable places in the vicinity. Google offers Google Maps SDK for Android and iOS to incorporate this feature. This way, it is easy to discover a new site without relying on a nearby tour guide.
2
Itinerary Generator
Tourists have the most challenge in handling all road activities. Planning the first place and going forward on a path requires due thought. Flight applications will mitigate this issue for consumers. This software asks the user just where they want to go. Then they create a travel schedule that satisfies their specifications automatically.
3
Weather Forecasting
A survey reveals that 51% of US recreational travellers use the travel application to verify their destinations' weather. They should pack accordingly.
In comparison, some people pack up easily without paying attention to the temperature. Real-time temperature forecasts must extend to travel applications. This helps you to be alert to the atmosphere and to escape the natural environment.
4
Booking Services
The most important thing for all travellers is the position they will be staying beside the road. All of them are looking for an inexpensive, clean and relaxing spot. To this end, a booking system must be incorporated into the application. You must ensure that the booking process for the consumers is streamlined in your proposal.
5
Social Media Sharing
You cannot continue to neglect the convergence of the social media keys. Adding the Social Media authentication feature to the app accelerates user registration.
6
Reviews and Ratings
We can't underestimate the value of feedback and ratings in the increasingly competitive industry. Modern travellers like to learn about their destinations. When making their final decision to visit a venue, users should look at the ratings and feedback.
Benefits of Travel and Tourism Mobile Application
Make all Your Bookings Easily under One Roof
It is also easier for passengers to use smartphone applications. This helps a visitor hook to set up everything at a single location if he joins the app. It includes select destinations, reservation of tickets to enter the spot, hotel reservation for pocket-friendly lodging, reservation of sightseeing taxis etc..,
Simplifies Transactions Apps for Tourism
Online transfers are one of the travel and tourism industry's best and most valuable donations. It helps you pay for your reservation on the internet and, even on holiday, you don't have to bring a lot of money into your hand.
Apps for the travel and tourism business provide personalised offerings that provide tour packages. This involves a business trip and family fun. Besides, tourism companies have been very mindful of their customers' unique desires and preferences.
Travel & Tourism cooperates with almost all transport services suppliers, such as railways, airways, sea, etc. Therefore, you have to partner with transport and booking companies to make a decent travel & tourism web application to their customers to make the travel & tourism a success.
Why Choose Krify for Mobile App Development?

We have professional software developers who have already built various applications with over 500 above mobile and web applications.

To discuss your queries and project criteria, we assist our clients with a free consultation. Our team will help them in answering all project-related queries.
We have personalised recruiting models, enabling clients to employ an hourly and fixed price for developers to fulfil different work requirements.

We have a technical maintenance support team that responds to your feedback and provides a feasible solution and a seamless experience.

We believe in total accountability with our customers, so we keep them updated about project progress across the whole development cycle.
You can explore our works on different business verticals. We have delivered the best of our services to our clients, based on the proposals shared by them.
Join hands with the Robust app development company
Talk to us about your idea of digital transformation or the development of apps so that we can turn it into reality.
Contact Us

Krify Inovations (UK) ltd

(US): 212-380-1160

(UK): 020 -3006 – 2580

(IND): 080 – 48131031

[email protected]

+91 95050 46265

krishnareddy_k