About
Travel and Tourism Website
The travel and tourism industry is one of the world's largest and most rapidly growing sectors. We are also seeing many people's continuing curiosity in spending their leisure time traveling. We have a team of programmers, developers, and web marketers at Krify, who have years of experience giving Travel & Tourism a competitive advantage.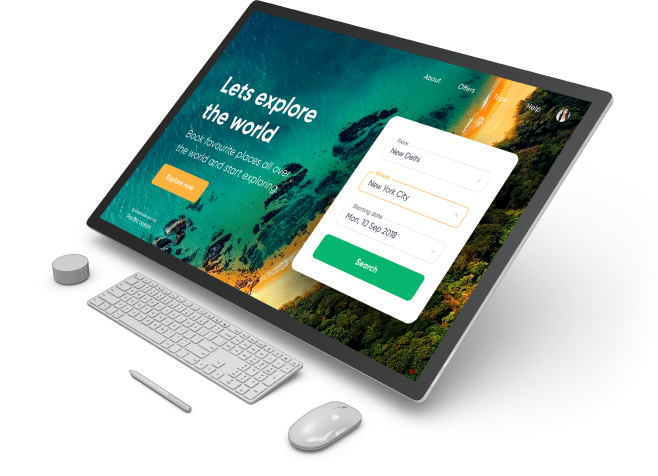 Feature of Travel and Tourism Website
According to estimates, one in every ten people worldwide is now part of the travel and tourism sector, making it the world's most significant civilian industry.
1
Unique Designs
A brand-worth template or interface represents everything. The company brand stands for an outstanding and flawless design.
2
Dynamic changes
Most people prefer to use basic websites with amazing functionality, and this feature can be integrated into the website.
3
Integrated payments
We deliver different advanced payment gates that help your customers ease and encourage online payments.
4
SEO friendly
To improve the online visibility over the top search engines, we linked each website to SEO-friendly URLs.
5
Filtered Searches
The support of filtered search options helps users limit their search results and configure them to find exactly what they want.
Benefits of Travel and Tourism Website
Instant Booking is a new way to seamlessly generate instant reservations from guests, who can now book with you directly on the world's largest travel site.
Zero investment in user training since the complete program is browser-based, and users find it easy to learn about the use of the website without much effort.
One of the main benefits of a travel and tourism website is an online presence. Expand the company online and increase your contribution to revenue.
Insights by statistical report
The users directing towards the website can be captured through statistical reports, and the customer statistics reports will allow efficient use of the resources.
Why Choose Krify for Website Development

We have professional software developers who have already built

To discuss your queries and project criteria, we assist our clients with a free consultation. Our team will help them in answering all project-related queries
We have personalized recruiting models, enabling clients to employ an hourly and fixed price for developers to fulfil different work requirements.

We have a technical maintenance support team that responds to your feedback and provides you with a feasible solution and a seamless experience.

We believe in total accountability with our customers, so we keep them updated related to project progress accross the whole development cycle.
You can explore our works on different business verticals. We have delivered the best of our services to our clients, based on the proposals shared by them.
Join hands with the Robust app development company
Talk to us about your idea of digital transformation or the development of apps so that we can turn it into reality.
Contact Us

Krify Inovations (UK) ltd

(US): 212-380-1160

(UK): 020 -3006 – 2580

(IND): 080 – 48131031

[email protected]

+91 95050 46265

krishnareddy_k