About Oil & Gas Mobile application

Oil & Gas enterprises have a huge opportunity to transform their operational processes using mobile solutions. Oil and Gas companies leverage mobile technologies to accelerate business growth, overcome traditional ways of communication, obtain real-time visibility across business verticals, and close the loop in the field with timely, accurate data.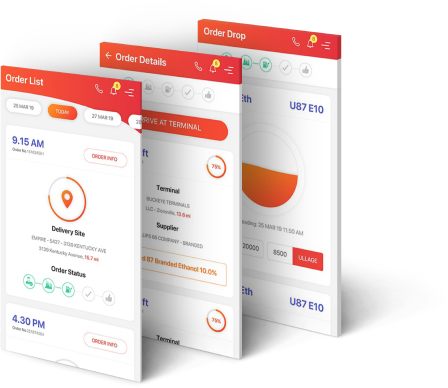 Features of Oil & Gas mobile application

Growth moves from stand-alone mobile solutions to mobile solutions incorporated into industry-specific enterprise networks among oil and gas companies. This transition corresponds to a broader trend in designing and contracting custom software and hardware to meet the specific needs of oil and gas firms.
1
Mobile analytics
Executive and operations dashboards provide real-time insights to inform effective decision-making, and analytics-based mobile applications can allow detailed analysis of key business metrics.
2
Oil management
Fuel use must be tracked, and replenishment must be monitored regularly to ensure smooth and cost-effective operations. Forecasting, fuel order forms, consumption tracking, remote control, delivery management, warnings, reviews, and main performance metrics are features that mobile apps can offer (KPIs).
3
GPS
Vehicle-tracking systems based on GPS and geographic information systems (GIS) are now widely used in the energy industry, allowing businesses to monitor key equipment in real-time and balance asset demand with supply.
4
Mobile supply chain
Mobile applications enable skilled staff to communicate in real-time through the global supply chain without being physically present at the facility, increasing product availability and lowering the time to market and the cost of oil and gas app production
5
Asset Management
The work order management process, maintenance management, asset and inventory management, and data engineering management will include procedures relating to the maintenance of offshore and onshore facilities.
Benefits of Oil & Gas mobile Application
Real-time information for the oil and gas industries is as valuable as profits. Mobile applications and solutions will accumulate huge quantities of it, like pump rate, clay viscosity, and more. This knowledge can be used to make quick choices that make an impact.
Smartphones and tablets can supply geolocation information on individuals and services. This makes it possible to match the jobs open to individuals. It also contributes to improving protection by the precision location of dangerous geographic areas.
More knowledge and more timely coordination ensure faster decision-making. Tasks are more prioritized; better decisions are made on which wells to follow.
Oil and gas firms are also big and wide-ranging, with many different employees operating together from the sector to offices and road managers. Mobile applications and technologies facilitate and enhance teamwork.
Why choose Krify for Mobile app development?

We have professional software developers who have already built various applications with over 500 above mobile and web applications.

To discuss your queries and project criteria, we assist our clients with a free consultation. Our team will help them in answering all project-related queries.
We have personalized recruiting models, enabling clients to employ an hourly and fixed price for developers to fulfill different work requirements.

We have a technical maintenance support team that responds to your feedback and provides a feasible solution and a seamless experience.

We believe in total accountability with our customers, so we keep them updated about project progress across the whole development cycle.
You can explore our works on different business verticals. We have delivered the best of our services to our clients, based on the proposals shared by them.
Join hands with the Robust app development company
Talk to us about your idea of digital transformation or the development of apps so that we can turn it into reality.
Contact Us

Krify Inovations (UK) ltd

(US): 212-380-1160

(UK): 020 -3006 – 2580

(IND): 080 – 48131031

[email protected]

+91 95050 46265

krishnareddy_k