About VOIP Mobile application
A VOIP system links people with special machines and VoIP phones. A caller's voice is translated to data immediately and then transported to the user on the other side via the Internet. This is much more effective than using traditional telephone networks to relay voice traffic.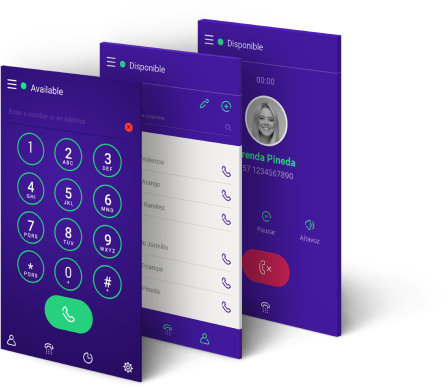 Features of VOIP mobile application
These VOIP applications include voicemail, call logging, all-in-one, call routing, telephone analysis, and many more.
1
Multi-participant instant messaging
Multiple participants can join the call conversation, which is very beneficial during any official group discussion.
2
Configurable settings
The user is accessible to configure settings to download the attachments shared either automatically or manually.
3
Smart contact list
The smartest way of listing the contacts who use the service using list subscription to a presence server.
4
End to End Encryption
For both user-to-user and group instant messages, end-to-end encryption is applicable.
5
Message Forward
Any important message to be forwarded to the client or other users can share information in a hassle-free manner.
Benefits of VOIP Web application
All interaction data is converted into packets and transmitted through the IP network instead of using telephone lines. Companies with VoIP are also able to make long-distance calls both domestically and domestically free of charge.
With your business, VoIP telephone systems expand. With VoIP telephone systems, you can use the best technologically knowing systems with many skills that make you the most efficient you can have.
While all calls use a converged data network rather than fixed telephone lines, VoIP makes it much simpler to build and engage in conference calls.
Like other functions of VoIP telephony systems, call-forwarding is unbelievably effective, one of the main user benefits.
Why Choose Krify for Mobile App Development?

We have professional software developers who have already built various applications with over 500 above mobile and web applications.

To discuss your queries and project criteria, we assist our clients with a free consultation. Our team will help them in answering all project-related queries.
We have personalized recruiting models, enabling clients to employ an hourly and fixed price for developers to fulfill different work requirements.

We have a technical maintenance support team that responds to your feedback and provides a feasible solution and a seamless experience.

We believe in total accountability with our customers, so we keep them updated about project progress across the whole development cycle.
You can explore our works on different business verticals. We have delivered the best of our services to our clients, based on the proposals shared by them.
Join hands with the Robust app development company
Talk to us about your idea of digital transformation or the development of apps so that we can turn it into reality.
Contact Us

Krify Inovations (UK) ltd

(US): 212-380-1160

(UK): 020 -3006 – 2580

(IND): 080 – 48131031

[email protected]

+91 95050 46265

krishnareddy_k