About
Logistic website
At Krify, we have a team of programmers, engineers and web marketers who have years of experience offering a strategic edge to the transport, haulage and logistics businesses. Our team will collaborate with you to develop your company's international market recognition and your brand's reliability and trustworthy image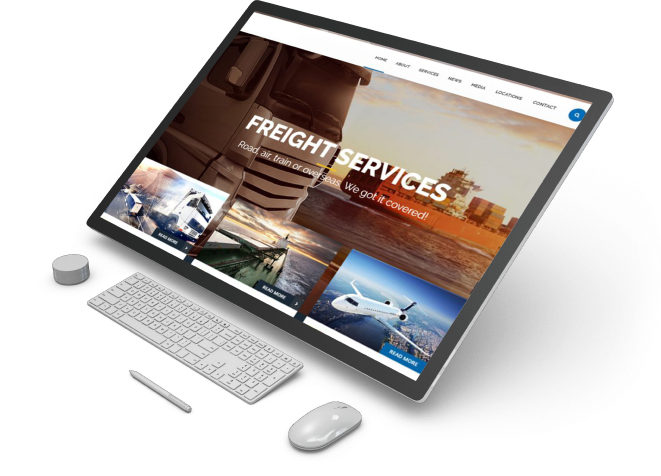 Features of Logistic website
The best development for a logistics business website allows consumers to reserve their freight 24 hours a day from any unit. Some of the logistic website features include
1
Real-time order tracking
For shipping services and recipients, it is very important to retain their control and to know where the shipment is at present. Real-time monitoring is a vital element of developing a logistics website. The customer must enter into the monitoring area in the shipping ID to see how far it progresses.
2
Online ordering
The best template for a logistics business website allows consumers to reserve their freight 24 hours a day from any unit. You will also require a consolidated order and billing management platform for all your order's specifics on your website, which will dramatically increase their organizational effectiveness.
3
Secure online payments
Customers can pay directly on their web site for logistics services — e-commerce allows the logistics industry to flourish. So a secure payment portal is one of the best concepts for transportation and logistics websites.
4
Feedback and awards
Potential buyers must realize that they can safely entrust their cargo. That is why your reviews on your shipping and logistics firm's home page should include the stars, prizes, certificates, and related things to boost your prestige.
5
Live support chat
To address an issue or ask a question about shipping procedures, records or distribution information, there should always be an option, aside from shipment trackings, to discuss with a person. For a logistics website, live chats and communication forms are important.
Benefits of Logistics website
 Customers get facilitated with an online booking facility with the introduction of transport software development. Your clients can reserve the package and freight by the application, and the application can conveniently streamline the whole procedure.
Traditional transport approaches require a huge amount of data. It was really hard to work with and handle. But with only a few clicks of the mouse, the software can do the whole job very quickly.
The systems are programmed, implying that no mistakes can occur. The programme can manage the ERP, CRM and all other module forms.
With web applications, users will massively enhance the efficiency of your transport service. This app will help you to stay in touch 24 hours a day, seven days a week with your customers. This strengthens client relations and takes the organization to the next level.
Why Choose Krify for Website Development

We have professional software developers who have already built

To discuss your queries and project criteria, we assist our clients with a free consultation. Our team will help them in answering all project-related queries
We have personalized recruiting models, enabling clients to employ an hourly and fixed price for developers to fulfil different work requirements.

We have a technical maintenance support team that responds to your feedback and provides you with a feasible solution and a seamless experience.

We believe in total accountability with our customers, so we keep them updated related to project progress accross the whole development cycle.
You can explore our works on different business verticals. We have delivered the best of our services to our clients, based on the proposals shared by them.
Join hands with the Robust app development company
Talk to us about your idea of digital transformation or the development of apps so that we can turn it into reality.
Contact Us
Krify Inovations (UK) ltd
(US): 212-380-1160
(UK): 020 -3006 – 2580
(IND): 080 – 48131031

info@krify.com

+91 95050 46265

krishnareddy_k