About
Fitness Industry Web application
In this technologically knowledgeable world, competitiveness is important. Your organization ought to adopt technologies at a quick speed. The development of the fitness website is extremely flexible and adaptable. Seamlessly clear online wellness-and fitness design presence attracts fitness enthusiasts interest.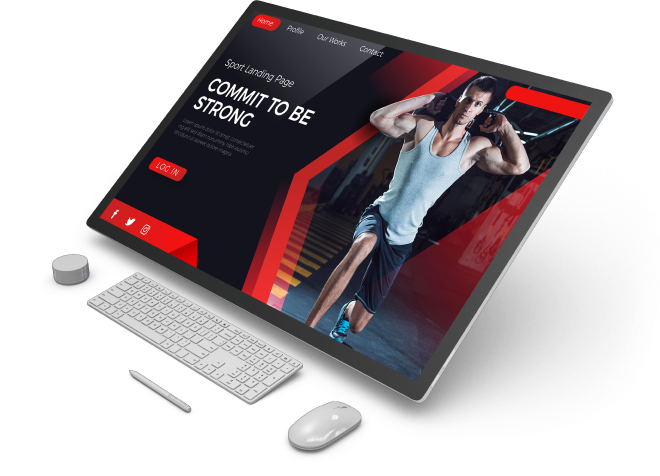 Feature of Fitness Website
The simplification of efficient material and catchy templates provides professionals with a one-stop solution. The website's design and production team boost exposure, reputation, and knowledge about health and content.
1
Sign up
If users can register with the application, they can store their data and secure and synchronize their data. The interface is also quite custom-designed.
2
Robust and unique design
Design is one of the main components of every application creation. A simple, useful, and interactive fitness application need to be developed, and the design should also be easy to use.
3
Notification
One of the most important and essential features is notice functionality. This is a feature that every application should have. Notifications help people to keep up to date with all the applications.
4
Personalization of Goals
Users should be in a position to set their own goals and expectations. The users better follow their schedule than the plan that the application defines.
5
Social Media Integration
Today most apps of social media channels are interconnected. They are just an essential ingredient in the performance recipe. Integrate social media software into wellness programs to share their social media accounts with whatever they do with the program.
Benefits of Fitness Website
A regular training track is the most amazing advantage in fitness applications, where you are continuously reminded of your health and where there is a failure or fitness standard, reminders are sent.
Accomplish the fitness goals
Setting up your fitness goals and making efforts to fulfill them might seem a little challenging, but with the application, it is a hassle-free process.
These applications will not work if they are not part of people's lives. You can't simply use it as a trend, but just search if you feel like this. These applications are designed for your fitness.
70% of your exercise routine is based on eating patterns. Fitness apps allow you to maintain a diet schedule and the health benefits of these fitness applications are immense.
Why Choose Krify for Website Development

We have professional software developers who have already built

To discuss your queries and project criteria, we assist our clients with a free consultation. Our team will help them in answering all project-related queries
We have personalized recruiting models, enabling clients to employ an hourly and fixed price for developers to fulfil different work requirements.

We have a technical maintenance support team that responds to your feedback and provides you with a feasible solution and a seamless experience.

We believe in total accountability with our customers, so we keep them updated related to project progress accross the whole development cycle.
You can explore our works on different business verticals. We have delivered the best of our services to our clients, based on the proposals shared by them.
Join hands with the Robust app development company
Talk to us about your idea of digital transformation or the development of apps so that we can turn it into reality.
Contact Us

Krify Inovations (UK) ltd

(US): 212-380-1160

(UK): 020 -3006 – 2580

(IND): 080 – 48131031

[email protected]

++917702320540

krishnareddy_k